January 8, 2019 – Psalm 37:5-6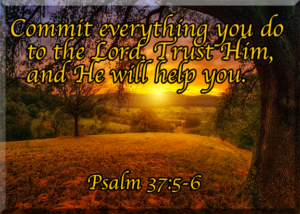 Commit everything you do to the Lord. Trust him, and He will help you. He will make your innocence radiate like the dawn, and the justice of your cause will shine like the noonday sun. Psalm 37:5-6.
Promise everything you do to God the Father!  Hold nothing back.  When God motivates every action we choose to take, He, and He alone is Who we will run to for help and wisdom every day.  
He spreads out righteous living daily for each of us.  The world clamors for justice, and only our Lord God can deliver justice for you and me.  God brings blessings and He also disciplines those He loves.  He renews my strength. He guides me along right paths, bringing honor to His name. Psalm 23:3.
Impatience is not a virtue, Patience is a gift of the Holy Spirit and helps us to wait patiently for our Lord to act.  I Peter 3:4 tells us, You should clothe yourselves instead with the beauty that comes from within, the unfading beauty of a gentle and quiet spirit, which is so precious to God.  
How often we hear, Fear not!  Don't be troubled.  Why do I put my trust in Jesus above all? From John 14:1, we read these words from Jesus.  "Don't let your hearts be troubled. Trust in God, and trust also in me."  In verse 27, Jesus again promises peace that can only come from Him.   "I am leaving you with a gift—peace of mind and heart. And the peace I give is a gift the world cannot give. So don't be troubled or afraid."  
Be still in the presence of the Lord, and wait patiently for Him to act. Don't worry about evil people who prosper or fret about their wicked schemes. Psalm 37:7