January 31, 2020 – Romans 8:27-28.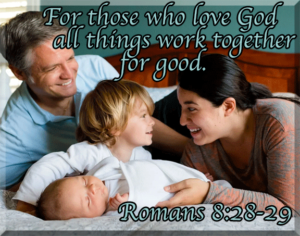 And He who searches hearts knows what is the mind of the Spirit because the Spirit intercedes for the saints according to the will of God. And we know that for those who love God all things work together for good,  for those who are called according to His purpose. Romans 8:27-28.
Why did God choose to ordain a family unit?  Eighty-five years ago, our family visited our grandparents at Christmas time. Then it was time for prayer. Since I had five aunts and uncles, plus my parents, kneeling on the floor for each one to pray.  I peeked around the room, and the sight of a unified family in faith stays with me.  
Recently my cousin and I talked about our family heritage and remembered this verse. The lines have fallen for me in pleasant places; indeed, I have a beautiful inheritance. Psalm 16:6.  Trusting in the leading of our God, generation after generation builds a comfort wall of faith in God. The earthly family, walking with God, builds a picture of the Family of God, of which Jesus is the firstborn. 
Only in the Oneness and Love of Jesus Christ can things work for Good. Praise the Lord! For it is good to sing praises to our God; for it is pleasant, and a song of praise is fitting. Psalm 147:1.  
Declare His glory among the nations, His marvelous works among all the peoples! For great is the Lord, and greatly to be praised; He is to be feared above all gods. Psalm 96:3-5.
For those whom He foreknew He also predestined to be conformed to the image of His Son, in order that he might be the firstborn among many brothers. And those whom He predestined He also called, and those whom He called He also justified, and those whom He justified He also glorified. Romans 8:29-30.