Inside-Out Transformation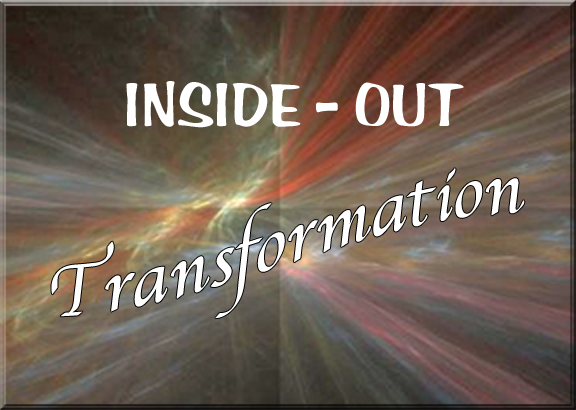 What is it about the
word transform that is so intriguing?
Even when I was young, I felt that a new dress was my way of
transforming myself. Add a pair of shoes
and I felt I was changed. Later I felt
the need to change the position of the furniture in my room environment. Then came the need of learning to do
something. Always, it was a need to
transform what is, to what it could be.
Somehow, new Easter clothes and shoes was satisfying for a time,
especially at the Spring season when earth was transformed into brilliant
colors of delight.
The outward physical appearance has to
maintain its continual renewal, being transformed.

Then I read this verse…Do not be conformed to this world, but be transformed by the renewal of
your mind….
Is this just education?

Is this learning more and more, this renewal
of your mind?

That would be easy to just
continue going to school, right?

Wait. Do not be conformed to the world – test what
the will of God is, which is good, acceptable and perfect.
That sounds as if I should control my
body…to do some things and not do others.
But everyone knows I lose my temper, it is normal.

And I just need some chemical help to get me
through some irritating happening.
Especially when others do such stupid things that I can't stand.

It is impossible to refrain from some things.

Now I will read all of Romans 12:1-3.
I appeal
to you therefore, brothers,
by the
mercies of God,
to
present your bodies
as a
living sacrifice, holy and acceptable to God, which is your spiritual worship.
Do not be
conformed to this world, but be transformed by
the renewal of your mind, that by testing you
may
discern what is the
will of God, what is good and acceptable and perfect. For
by the grace given to me I say to everyone among
you
not to think of
himself more highly than he ought to think, but to think with sober judgment,
each according to
the measure of faith that God has assigned.

Romans 12:1-3
I cannot
do this transforming by simply renewing my mind.

I will have to change my whole life.

Right, even when I know this is what I need,
I am overwhelmed.

Nothing is going right
in my life.

I know I need to change but
how? First of all, get rid of the "I's".
It is God that transforms through Jesus Christ.
Practice
Gratitude.

Be thankful.

This begins transformation.

Recognize the Grace of Jesus.

Recognize and know – heart-deep – what Love
is.

The Grace Basics:

God created us and our World.

He loves us with a steadfastness so great
that He sent his One and Only Son Jesus into our world to live here and die for
our sins.

Jesus conquered death and rose
again.

Why?

That we might live with Him, and be saved
from a sin-filled world.
How important is God's
love?
So now faith, hope, and love abide, these three; but the greatest of these
is love
. I Corinthians 13:13.

Love makes
the world go around (lyrics). Love makes us free from the fetters of sin and
hatred.

Love creates life and a future,
where there was none.

Love creates Grace
– and the forgiveness of our sins as we forgive others.
Just as God loves us, we can love others, a huge helping of non-judgmental
love, covered with forgiveness and a promise of joy and peace.

Love is a delightful feast for living
everyday.

Love goes around, giving hope
in this life and for the next life with Jesus.

As we
tiptoe into the unknown territory of 2015, let's allow God to transform
us into a 'child of light'.

We
long to follow the easy 10 step method of transformation.

The magazine and books proliferate with 10
easy steps to change parts of our lives.
However, this change is from the inside-out from our very soul.

This is of the spirit.

One dose of gratitude is just a beginning and
needs to be repeated often.

For every
critical judgment, there needs to be a blessing.

You will be surprised at how often a blessing
goes unheeded.

It is because our
recognition of God working in our lives at times can be painful.

We simply want to blame someone, never
ourselves.
Now, look
around.

See something not to your
liking?

What is the blessing of that one
thing.

It is a beginning, to recognize a
blessing.

God's blessings abound.

Surround yourself with God's people. This
transformation happens together with others who love Jesus.

Whisper the name Jesus, and hear the voices
of Heaven praise Him.

The name of Jesus
is precious because of Who He is.

He
loves us. He died for us.

He will take
us home to Heaven.

He knows the number
of hairs on our head.

He was there when
earth was created.

He and His Father God
and the Holy Spirit are with us.
The name
of Jesus….is so sweet.

Think of how God
named the stars.

That is love.

Not just a bunch of stars twinkling on cue –
those are God's creation.

He cares.

It is the same for everyone who has ever been
born.

We are given a name and that name
is precious to God, for He made each of us. With every birth, God
rejoices.

With every re-birth by baptism
into Jesus Christ our Savior, the angels fill the heavens with rejoicing.
On the eve
of the New Year, prepare yourself to be transformed…from the Inside-Out!
Put on then,
as God's chosen ones, holy and beloved, compassionate
hearts, kindness, humility, meekness, and patience, bearing with one
another and, if one has a complaint against another, forgiving each
other; as the Lord has forgiven you, so you also must forgive.

Colossians 3:12-13
But our citizenship
is in heaven, and from it we await a Savior, the Lord Jesus
Christ, who will transform our lowly body to be like his
glorious body, by the power that enables him even to subject all
things to himself.

Philippians 3:20-21
Now the Lord is the Spirit, and
where the Spirit of the Lord is, there is freedom. And we all,
with unveiled face, beholding the glory of the Lord, are being
transformed into the same image from one degree of glory to another. For
this comes from the Lord who is the Spirit.
II Corinthians 3:17-18
Comments? eacombs@att.net