February 28, 2023-Reflections on "Abide with Me!"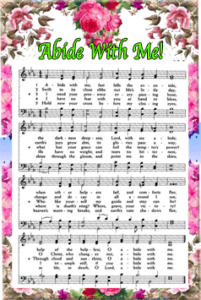 Though I walk in the midst of trouble, You preserve my life; You stretch out Your hand against the wrath of my enemies, and your right hand delivers me. The Lord will fulfill His purpose for me; Your steadfast love, O Lord, endures forever. Do not forsake the work of Your hands. Psalm 138:7-8.
This Psalm is attributed to David and begins, I give you thanks, O Lord, with my whole heart; I bow down toward your holy temple and give thanks to Your name for Your steadfast love and Your faithfulness, for You have exalted above all things Your Name and Your Word. On the day I called you, You answered me; my strength of soul, You increased. Psalm 138:1-3. David learned to abide in God as he shepherded sheep on the hillside.
What does abide mean? Jesus taught the meaning in John 15:5 I am the vine; you are the branches. Whoever abides in me and I in him, he it is that bears much fruit; for apart from me, you can do nothing.
This describes a close relationship. No masks, no secrets, all in the open. No hiding. David also wrote Psalm 139: O Lord, You have searched me and known me! You know when I sit down and when I rise up; You discern my thoughts from afar. You search out my path and my lying down and are acquainted with all my ways. Even before a word is on my tongue, behold, O Lord, you know it altogether. You hem me in, behind and before, and lay Your hand upon me. Psalm 139:1-5.
         David learned to trust God, and when wild animals tried to attack the sheep, he protected. He knew what it was to fight. When Jesse, David's father, asked him to take grain to his three older brothers, and bring back word about their well-being.
He arrived in time to hear the charge from the giant Goliath and see him. And there came out from the camp of the Philistines, a champion named Goliath of Gath, whose height was six cubits and a span. He had a helmet of bronze on his head, and he was armed with a coat of mail, and the weight of the coat was five thousand shekels of bronze. And he had bronze armor on his legs, and a javelin of bronze slung between his shoulders. The shaft of his spear was like a weaver's beam, and his spear's head weighed six hundred shekels of iron. And his shield-bearer went before him. I Samuel 17:4-7.
         And David said, "The Lord who delivered me from the paw of the lion and from the paw of the bear will deliver me from the hand of this Philistine." And Saul said to David, "Go, and the Lord be with you!" I Samuel 17:37. David knew no fear and chose five smooth stones. David only needed one! For the battle is the Lord's, and He will give you into our hand. 1 Samuel 17:47b.
         Is Fear your Giant? "Fear Not!" So many times, in God's Word are these two words that Commands us to trust in the Lord, and there is no reason to fear. I often felt fear in my life until I read this verse. There is no fear in love, but perfect love cast out fear. For fear has to do with punishment, and whoever fears has not been perfected in love. I John 4:18,
The word, ABIDE, in our Lord, contains five smooth stones of faith and trust to conquer all fear in our daily lives:
    Adore His majesty in prayer… If you abide in me, and my words abide in you, ask whatever you wish, and it will be done for you. John 15:7.
     Bless Him through service…  I am the vine; you are the branches. Whoever abides in me and I in him, he it is that bears much fruit, for apart from me you can do nothing. John15:5.
    Incline your heart toward His Word…  If you keep my commandments, you will abide in my love, just as I have kept my Father's commandments and abide in his love. John 15:10.
      Dwell  Deep in His Love… Abide in me, and I in you. As the branch cannot bear fruit by itself, unless it abides in the vine, neither can you, unless you abide in me. John 15:4.
     Exalt Him with joy…These things I have spoken to you, that my joy may be in you, and that your joy may be full. John 15.11.
His Word is filled with many promises of God being in our midst and being with us, such as this one: "The Lord is my light and my salvation; whom shall I fear? The Lord is the strength of my life; of whom shall I be afraid?" Psalm 27:1.
"And behold, I am with you always, to the end of the age." Matthew 28:20b.
      "Fear not, for I am with you; be not dismayed, for I am your God. I will strengthen you, yes, I will help you, I will uphold you with My righteous right hand." Isaiah 41:10.
         For though I am absent in body, yet I am with you in spirit, rejoicing to see your good order and the firmness of your faith in Christ. Colossians 2:5.
        I write to you, fathers, because you know him who is from the beginning. I write to you, young men, because you are strong, and the word of God abides in you, and you have overcome the evil one. I John 2:14.
       His soul shall abide in well-being, and his offspring shall inherit the land. The friendship of the Lord is for those who fear him, and he makes known to them his covenant. Psalm 25:13-14.
      The Lord will fight for you, and you have only to be silent. Exodus 14:14.