February 21, 2020 – I Thessalonians 5:14-19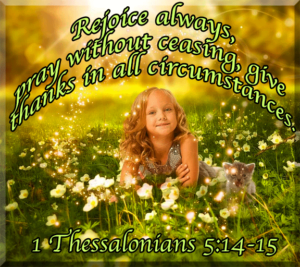 And we urge you, brothers, admonish the idle, encourage the fainthearted, help the weak, be patient with them all. See that no one repays anyone evil for evil, but always seek to do good to one another and to everyone. Rejoice always, pray without ceasing, give thanks in all circumstances; for this is the will of God in Christ Jesus for you. Do not quench the Spirit. I Thessalonians 5:14-19.
Which perspective do you use to see the world?  There is only one perspective that brings us together in love. Jesus died hanging on the cross to pay for our sins, and He said, "It is finished!"  When we rejoice always and when we give thanks in all things, we acknowledge His gift of love and grace.  
It is when we show love to each other, encourage the fainthearted, and help the weak, we can rejoice and be thankful.  When we exhibit patience to all and do good to everyone, we can give thanks to the God of peace. For in Him we are enabled to care for those less fortunate than we are.   
Jesus is coming again.  Will He find us blameless when He comes?  He calls for us to be faithful even as He is faithful to us. He is all powerful, and will surely care for us, even as He places the stars in space.  But to all who did receive Him, who believed in His name, He gave the right to become children of God. John 1:12. 
We love because He first loved us. 1 John 1:19,
 Now may the God of peace Himself sanctify you completely, and may your whole spirit and soul and body be kept blameless at the coming of our Lord Jesus Christ. He who calls you is faithful; He will surely do it. I Thessalonians 5:23-24.