February 12, 2020 – I John 4:2-3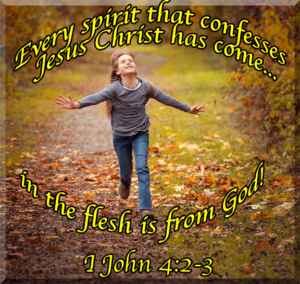 By this, you know the Spirit of God: every spirit that confesses that Jesus Christ has come in the flesh is from God, and every spirit that does not confess Jesus is not from God. This is the spirit of the antichrist, which you heard was coming and now is in the world already.  I John 4:2-3.
Test each spirit and don't trust until you know they acknowledge God all the way, including His Son Jesus.  Without Jesus, we don't have a way to God. Jesus said to him, "I am the way, and the truth, and the life. No one comes to the Father except through me." John 14:6. This chapter begins…."Let not your hearts be troubled. Believe in God; believe also in me."
I never tire reading the 14th chapter of John for comfort and reassurance.  When I read this chapter, I know without a doubt that being in God gives the status of being His little children. He watches over us non-stop.
Do you remember that feeling of being safe and snuggled in as a child?  Verse 27,  Peace, I leave with you; my peace, I give to you. Not as the world gives do I give to you.  Let not your hearts be troubled, neither let them be afraid.  How do we know we can trust God?  He listens to us.  He fights for us.  He has plans for us.
Little children, you are from God and have overcome them,  for He who is in you is greater than he who is in the world. They are from the world; therefore they speak from the world, and the world listens to them. We are from God. Whoever knows God listens to us; whoever is not from God does not listen to us. By this, we know the Spirit of truth and the spirit of error.  I John 4:4-6