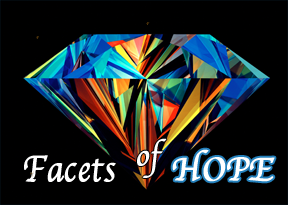 I hope it rains.
I hope we can have dinner on time.
I hope you are ready when it is time to go.

I hope I sleep well tonight.

I hope I get well.

I hope, I hope, I hope….
Where does hope
come from?

Where can we find hope when
all seems hopeless?

Is hope an empty
wish or a prayer?

Hope is the encouragement
to live, to dream, and to build a life on joy here on earth.

What makes hope a desired state of being?

When we desire the truth of hope, we go to
the Book of Truth.
Hope is part of a
list in I Corinthians 13:7-8, For
now we see in a mirror dimly, but then face to face. Now I know in part; then I
shall know fully, even as I have been fully known. So now faith, hope, and love
abide, these three; but the greatest of these is love. I Corinthians
13:12-13
Hope is built on faith
and love and will continue for infinity and a forever.

It has no end. Without faith, there is no
hope and without love there is no hope.
King David knew the
essence and genesis of hope.

The Psalms
is the book where we find hope:
† –
And
so, Lord, where do I put my

hope

?
My only

hope

is in you
. Psalm 39:7
† –
Let
your unfailing love surround us,

Lord

,
for our

hope

is in you
alone.
Psalm 33:22
† –
Why am
I discouraged? Why is my heart so sad? I will put my

hope

in God! I will praise him again— my Savior and my God!
Psalm 42:11
In those three verses we find our only hope is in
God.

We learn that his love is unfailing
and surrounds us.

We do not place our
hope in anything or anyone else.

And we
learn that another facet of hope is praising God for how he loves us so much
that our trust is completely in Him.
Just as a child trusts his earthy father, we trust our Father in
Heaven.
† –
Rejoice
in our confident

hope

. Be
patient in trouble, and keep on praying
.

Romans 12:12
The world tells us to be Happy!

But the rhyme or
reason for hope dissipates unless we have faith in God the Father.
† –
I pray
that God, the source of

hope

,
will fill you completely with joy and peace because you trust in him. Then you
will overflow with confident

hope

through
the power of the Holy Spirit.
Romans 15:13
The Holy Spirit lives
within each of us who place our faith in Jesus Christ.

How does this come about?

Through the sacrificial, unconditional love
when God gave His One and only Son.
† –
For
this is how God loved the world: He gave his one and only Son, so that
everyone who believes in him will not perish but have eternal life. God
sent his Son into the world not to judge the world, but to save the world
through him.
John 3:16-17
These two verses is the
good news, the Gospel in a nutshell.
These two verses give us hope when we are in the depths of despair of
mourning, separation and sickness.

And
there is more….there is the Fruit of that Holy Spirit that brings us to the
flowing fountain of hope through Love,
Joy, Peace, Patience, Kindness, Goodness, Gentleness, Faithfulness and
Self-Control. (Galatians 5:22-23
This quote says it all from C.S.
Lewis:

And for us this was the end of all the

stories

, and we can most truly say that they all lived happily
ever after. But for

them

it
was only the beginning of the real
story. (Chronicles of Narnia)
Jehovah God's story is
one of great steadfast love.

When we
accept Jesus as our Savior, we become a part of His Story of Love.

We are each a chapter in God's Story living
in an unending joy, unending hope in God's Truth.

We are all invited to love Jesus, but we are
not forced to love him.

It is our
choice.

How much easier it is to turn to
Jesus, than to go on this life's journey alone without our source of Hope.
One of the most desired
feelings we have is belonging and acceptance.
In Christ Jesus there is no rejection or loneliness for He loves us
unconditionally and longs for us to return that love.

Love comes from God and makes the world light
up, and in turn when we love God and His Son, we are a shining light for Jesus
to those around us.
† –
Dear
friends, let us continue to love one another, for love comes from God.

Anyone who loves is a child of God and knows
God. But anyone who does not love does not know God, for God is love.
I John 4:7-8
The Facets of Hope have so
many reflections of His Light.

Faith,
Love, Trust, Light, the Fruit of the Spirit and we learn to live in a process
of growth to be more like Jesus and know Him.

What does it look like?

Hugs, Smiles, and a Helping Hand over the
rough places – is being Jesus to others. This Jesus-Hope is a process.

It is a strengthening of who we are in Him.
† –
And endurance develops strength of
character, and character strengthens our confident

hope

of salvation.
Romans 5:4
† –
All
praise to God, the Father of our Lord Jesus Christ. It is by his great mercy
that we have been born again, because God raised Jesus Christ from the dead.
Now we live with great expectation.
I Peter 1:3




Comments? eacombs@att.net