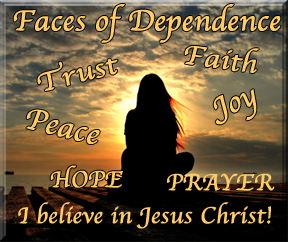 My little brother
Jimmy, 11 months younger than me, sat on the front pew in church, laboriously
tying his shoe.

He was four years
old.

A grandmotherly type asked if she
could help.

His retort, without looking
up, "I ten do it by myself."

That was all it took for Dad to show his
proud face, and everyone in hearing distance 'awed and ohed'.
At five years
old, I could not label his action.

But
now I know I was seeing the Face of Independence.

In the past few days, I was struck by the
number of people who declared, "Celebrate Independence!"

Flag waving, fireworks display, parades and
picnics in celebration of Independence of our Country covered our land.
What are we
really celebrating?

Not Independence but
freedom from enslavement and tyranny.

In
America the Faces of Independence included the phrase, "I pulled by myself up
by my boot-straps."

Meaning, I am a
self-made man.

I have achieved a measure
of status, power and wealth all by myself, the world of American style picture
of Independence.
Another Face of
Independence is the desire to be Number
One in sports, in business, in homemaking, in farming, and the many
pursuits we find ourselves in.

I
remember one person telling me to teach my sons competition, or they would not
achieve in this world.

Staying ahead of
the mythical Joneses becomes a passion and a duty, a self-proclaimed measure of
success.

Competition and independence has
become an enslavement, a weakness, that is never finished, always wanting more.
What is freedom
really?

It is Dependence.

Dependence is not a weakness, but a strength
when we depend on the Lord God.
Now the
Lord is the Spirit, and where the Spirit of the Lord is, there is

freedom
.
2 Corinthians 3:17.

The Spirit we
cannot see is the power we can see in the joy and satisfaction that fills our
lives.

The

wind

blows
where it wishes, and you hear its sound, but you do not know where it comes
from or where it goes. So it is with everyone who is born of the

Spirit

."

John 3:8

The Spirit of the Lord is
the One Spirit who gives each of us life and spoke the world into being.

How could this be?

With our finite minds we cannot fathom the
infinite.

He gives us the very breath
that we breathe, He knows our every thought, every word and every action before it is thought, spoken or acted
upon.
He waits for us to choose
to depend on Him for our daily bread and sustenance of the Bread of Life
because He loves us so.

In Him we find a
spiritual maturity as we grow closer to the One who loves us more than we can
ever know.
The Faces of Dependence
give us unimaginable gifts of Trust, Faith, Belief, Peace and Joy.

Apostle Paul said.

I can do all
things through him who strengthens me.
Philippians 4:13
How many times in my lifetime have I relied on my own
power and strength and failed utterly.
Yet, when I asked God to lead me, to help me, then I received the joy of
confidence, from the One I do trust.
True freedom is found in trusting God.

He is the road to living freely for He
provides detours around the roadblocks that Satan leaves to entice us away from
the Lord God and His Word.
Long ago the leaders of our country understood the
truth and wisdom of dependence on God and His Laws.

The blessing of peace is no longer ours in
this age of 'enlightenment' that leads to darkness.

Hope is a sputtering candle, ready to go out.
John Wallace Miller includes this quote – If you
really want to be free, learn to live in dependence upon the Lord each day of
your life. While we as a nation celebrate our independence from an earthly
king, may we as believers celebrate our dependence upon the King of kings!
† –
For freedom Christ
has set us free; stand firm therefore, and do not submit again
to a yoke of slavery.

Galatians 5:1
† –
For you were called to

freedom

, brothers. Only do not use
your

freedom

as an
opportunity for the flesh, but through love serve one another. 5:13
† –
So Jesus said to the Jews
who had believed him, "If you abide in my word, you are truly my
disciples, and you will know the truth, and
the truth will set you free."

John
8:31-32
† –
For if, because of one man's
trespass, death reigned through that one man, much more will those who receive
the abundance of grace and the

free

gift
of righteousness reign in life through the one man Jesus Christ. Romans 5:17
† –
But now that you have
been set free from sin and have become slaves of God, the fruit you
get leads to sanctification and its end, eternal life. For
the wages of sin is death, but the free gift of God is eternal life in Christ
Jesus our Lord.

Romans 6:22-23
† –
There is therefore now no
condemnation for those who are in Christ Jesus. For the
law of the Spirit of life has set you free in Christ Jesus from
the law of sin and death.

Romans 8:1-2
† –
Now we have received not the
spirit of the world, but the Spirit who is from God, that we might understand
the things

free

ly given us
by God.

1 Corinthians 2:12
† –
For you were called to

free

dom, brothers. Only do not use
your

free

dom as an
opportunity for the flesh, but through

love

serve one another.

Galatians 5:13
† –
To him who loves us and has
freed us from our sins by his blood and made us a
kingdom, priests to his God and Father, to him be glory
and dominion forever and ever.


Comments? eacombs@att.net