December 24, 2018 – Luke 1:28-29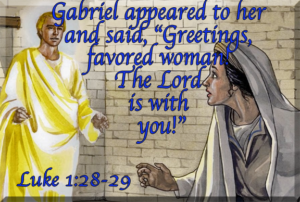 Gabriel appeared to her and said, "Greetings, favored woman! The Lord is with you!" Confused and disturbed, Mary tried to think what the angel could mean. "Don't be afraid, Mary," the angel told her, "for you have found favor with God! Luke 1:28-29.
Have you ever wondered what Mary was like as a little girl?  What kind of teaching and experiences did she have growing up?  Where did she go to understand what the Angel Gabriel had said to her?  There were no 'how-to' books to read.
She went to see Elizabeth after Gabriel said, What's more, your relative Elizabeth has become pregnant in her old age! People used to say she was barren, but she has conceived a son and is now in her sixth month.  For the word of God will never fail." Luke 1:36-37.   
It is recorded in Luke 1:38 – Mary responded, "I am the Lord's servant. May everything you have said about me come true." And then the angel left her.
Elizabeth knew immediately and greeted Mary…"God has blessed you above all women, and your child is blessed. Why am I so honored, that the mother of my Lord should visit me? When I heard your greeting, the baby in my womb jumped for joy. Luke 1:43-44.
Mary responded, "Oh, how my soul praises the Lord. How my spirit rejoices in God my Savior!  Luke 1:46-55 records Mary's song to God.  Mary, a young girl considers herself a servant.  After Jesus was born,  Mary kept all these things and pondered them in her heart. Luke 2:19. Mary, did you know?
 "Don't be afraid, Mary," the angel told her, "for you have found favor with God!  You will conceive and give birth to a son, and you will name him Jesus.  He will be very great and will be called the Son of the Most High. The Lord God will give him the throne of his ancestor David.  And he will reign over Israel forever; his Kingdom will never end!"  Luke 30-33.