August 3, 2018 – Hebrews 10:20-22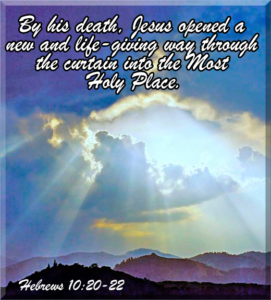 By his death, Jesus opened a new and life-giving way through the curtain into the Most Holy Place. And since we have a great High Priest who rules over God's house, let us go right into the presence of God with sincere hearts fully trusting him. For our guilty consciences have been sprinkled with Christ's blood to make us clean, and our bodies have been washed with pure water. Hebrews 10:20-22.
Only the High Priest was allowed to enter the Holy of Holies — and be in the Presence of the Lord.  Because of the sacrifice of Jesus, we can enter freely into the presence of God.  No curtain separates us from God's Presence.
The blood of Jesus was shed for our sins,  as the ultimate sacrifice. When we have been washed in pure water (of baptism) we become children of God. Our spirits are reborn!
This means that anyone who belongs to Christ has become a new person. The old life is gone; a new life has begun! And all of this is a gift from God, who brought us back to himself through Christ. And God has given us this task of reconciling people to him. 2 Corinthians 5:17-18.
What is the promise we are given in Christ? But we are looking forward to the new heavens and new earth he has promised, a world filled with God's righteousness. 2 Peter 3:13.  We wait in peace with hope-filled patience for God's promises to come, for we know God can be trusted.
Work willingly at whatever you do, as though you were working for the Lord rather than for people. Remember that the Lord will give you an inheritance as your reward and that the Master you are serving is Christ.  Colossians 3:23-24.
Let us hold tightly without wavering to the hope we affirm, for God can be trusted to keep his promise. Hebrews 10:23.