August 28, 2020 – John 14:23-24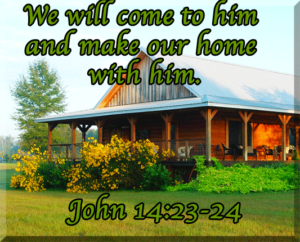 Jesus answered him, "If anyone loves me, he will keep my word, and my Father will love him, and we will come to him and make our home with him. Whoever does not love me does not keep my words. And the word that you hear is not mine but the Father's who sent me. John 14:23-24.
Our hearts rejoice!  How can we not love Jesus, the Son of God Who loves us first. We love because He first loved us. I John 4:19.  We are drawn to Jesus because of His love and want to please Him.  It is when He forgives our sins, and His commands we obey, The Father an His Son, Jesus, make their home in our hearts.  
Jesus gives us Peace.  Our hearts are no longer troubled. Jesus sends the Holy Spirit to dwell within us. He did not leave us alone. Jesus has a purpose for our lives, to bear fruit and live for Him.  I am the vine; you are the branches. Whoever abides in me and I in him, he it is that bears much fruit, for apart from me, you can do nothing.  John 15:5.  
Do not be anxious about anything, but in everything by prayer and supplication with thanksgiving let your requests be made known to God.  And the Peace of God, which surpasses all understanding, will guard your hearts and your minds in Christ Jesus. Philippians 4:6-7.    In Him we have an eternal home not made with hands. (2 Corinthians 5:1)
Peace I leave with you; my peace I give to you. Not as the world gives do I give to you. Let not your hearts be troubled, neither let them be afraid. You heard me say to you, 'I am going away, and I will come to you.' If you loved me, you would have rejoiced, because I am going to the Father, for the Father is greater than I.  John 14:27-28.