August 14, 2018 – I Peter 3:18-20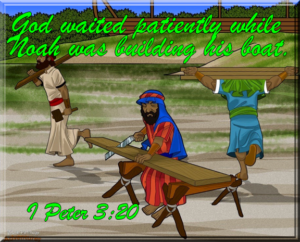 Christ suffered for our sins once for all time. He never sinned, but he died for sinners to bring you safely home to God. He suffered physical death, but he was raised to life in the Spirit. So he went and preached to the spirits in prison— those who disobeyed God long ago when God waited patiently while Noah was building his boat. Only eight people were saved from drowning in that terrible flood. I Peter 3:18-20.
At a young age, I became intrigued by the story of Noah and his three sons in Genesis 6:9-14. Noah, a righteous man, is the only blameless person on earth. God chose to save him and his three from the flood of punishment that would come on all the people who remained on earth.  God gave Noah precise instructions on how to build the ark. Just as Jesus tells us how to build our lives through obedience and following Him.  Matthew 28:18-20 tells us, Go, Teach, Baptize in the Name of Jesus.  He adds the beautiful promise, "And be sure of this: I am with you always, even to the end of the age."
Noah's sons, Ham, Shem, and Japeth helped their father build the ark, and were saved, too. The four men worked weeks and months to make sure the Ark met the requirements of God.  Jesus gave His life to make sure a blood sacrifice was made for all men to be saved.  They endured the ridicule and mocking of those who witnessed their labors until it began raining and raining.
God has a plan for each of us, to save us if we accept the Authority of the Lord.
And that water is a picture of baptism, which now saves you, not by removing dirt from your body, but as a response to God from a clean conscience. It is effective because of the resurrection of Jesus Christ. Now Christ has gone to heaven. He is seated in the place of honor next to God, and all the angels and authorities and powers accept his authority. I Peter 3:21-22.