April 24, 2019 – Psalm 34:19-20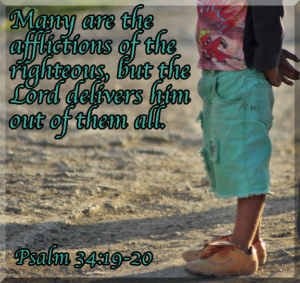 Many are the afflictions of the righteous, but the Lord delivers him out of them all.  He keeps all his bones; not one of them is broken.  Psalm 34:19-20.
Have you ever been overwhelmed with the blessings you encounter each day? God nudges our hearts through a friend across the ocean to pray for the victims of an earthquake.  God has a reason and purpose for everything.  Compassion and kindness for God's children, no matter how far away, is a gift of His Love.  
Driving on icy roads created a near disaster for a young father with two daughters as they slid into a ditch.  After being rescued, he drove carefully the rest of the way home.  He had read Psalm 34:19, and knew deep in his heart, God would care for him and his family, no matter how many afflictions came his way.
Righteous living in the name of the Lord provides a cover of deliverance that goes beyond physical safety. And the peace of God, which surpasses all understanding, will guard your hearts and your minds in Christ Jesus.  Philippians 4:7.   
 How can we be righteous, and find refuge?  Submit yourselves therefore to God. Resist the devil, and he will flee from you.  Draw near to God, and He will draw near to you.  James 4:7-8a.  
And He answered, "You shall love the Lord your God with all your heart and with all your soul and with all your strength and with all your mind, and your neighbor as yourself." Luke 10:27. 
 Finally, all of you, have unity of mind, sympathy, brotherly love, a tender heart, and a humble mind. I Peter 3:8.
Affliction will slay the wicked, and those who hate the righteous will be condemned.  The Lord redeems the life of his servants; none of those who take refuge in Him will be condemned. Psalm 34:21-22.