April 1, 2019 – Genesis 15:6-7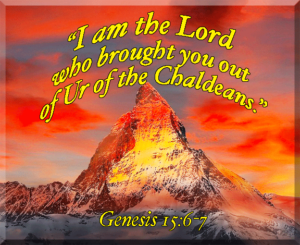 And Abram believed the Lord, and the Lord counted him as righteous because of his faith. Then the Lord told him, "I am the Lord who brought you out of Ur of the Chaldeans to give you this land as your possession." Genesis 15:6-7.
God announced to Abraham who He is, with this 'I Am' statement in Genesis 15:6-7.  Four generations later, God again told Moses, 'I am the Lord.'  The span of time was approximately 430 years between Abraham and Moses.  Nothing changed. Between Abraham and King David fourteen generations are listed.  
We are blessed to know our grandfathers, and often our great-grandfathers. Fourteen generations of faithful followers of God would be awesome.  One factor remained in their lives from Abraham's life – they believed in God. When Abraham believed, God counted it as righteousness.   
The longer we live, the closer we desire to be nearer to our Lord. King David knew God, and believed and was forgiven. Hear my prayer, O Lord; listen to my plea! Answer me because you are faithful and righteous. Psalm 143:1.
Lord, through all the generations You have been our home! Before the mountains were born, before You gave birth to the earth and the world, from beginning to end, You are God. Psalm 90:1-2.
O Lord my God, you have performed many wonders for us. Your plans for us are too numerous to list. You have no equal. If I tried to recite all your wonderful deeds,  I would never come to the end of them. Psalm 40:5.
Then God sent Jesus, His Son to give us Hope and Love. You are the God of great wonders!  Psalm 77:14a.
Then God gave the people all these instructions: "I am the Lord your God, who rescued you from the land of Egypt, the place of your slavery. "You must not have any other god but me. Exodus 20:1-3.