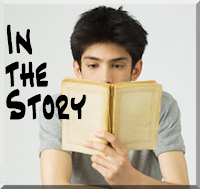 A
new book in my hands and my heart beats faster anticipating a story I
will enjoy. I turn to the inside contents page, and wonder how this
story will unfold. I run my fingers over the cover as I read the
back cover to ascertain the flavor of the book and read about the
author. Finally I am ready to dive in, like making a swift entry
into the sea of words.
How
long does it take to be fully captivated and the world about me
recedes? That is the test of the book. Is it one chapter, two or
more? If the book is truly captivating, I become the character in
disguise, and it is my story. A story that I borrow to be mine.
As
a child, I was aware that I belonged to a family that included
parents, two brothers an assortment of aunts and uncles plus beloved
grandparents. I knew my great grandparents – Jacob and Justina
Loewen, too. I didn't realize that I was a part of a story. A true
non-fiction story.
Every
decision made by my grandparents, parents and uncles and aunts, and
later my cousins affected my life. They were in my story and I was
in their story. At one point in my life I remember saying, "I am
me and I can make my own decisions (and mistakes)." That is a good
way to write "The End" to the story, I found out. Making my own
decisions and doing life my way builds an impenetrable wall around me
and separates me from the pages of my family's story.
As
time went on, I began to enjoy reading my family story back as far as
records go. The golden thread that held the story together from
generation to generation was a deep faith in God through so many
heart aches that strengthened their ability to trust God. In this
blog I have written about all the hurts and triumphs. A daily
struggle to survive and feed the family, big decisions, small
decisions, deaths, marriages, children born, traveling from far away
to this country, the blessing of music and worshipping God. Our
family story is a legacy of love here on earth. The story is made of
vignettes of honor, laughter, compassion, integrity, truth and a deep
concern for others painted in the brilliant colors of love.
But
where did that love, the basis of our strong legacy come from? From
the author of love, Jesus Christ who gave his life for us and our
story grows, for we are now in a story, inside of a another story.
This story has a beginning and no end, for it is the 'forever story'.
A story without an end lasting into eternity.
As
in any story, there is the main plot with the Protagonist and the
Antagonist playing the main parts in our lives. When we see that we
play the sub-plot to the main story, we understand our place (It's
not about us). God is the Protagonist and Satan is the Antagonist
who fights the Protagonist at every step. Donald Miller
(storylineblog.com) proposes that we play the sub-plot part in our
lives to the main story of God. Life is a continuing story of man
who must learn that the Protagonist part – God – is already
taken. When we understand that in our role of sub-plot, we simply
support the principal character, then our lives come to a
satisfactory understanding. We choose to support the Protagonist.
If we allow the Antagonist to sway our thinking to wrestle the
protagonist role away from God, then we fall into an abyss of
personal terror, uncertainty and chaos. For we have chosen the loser,
not just here on earth, but for eternity.
So
what does our Lord God think of us? What does God offer us? And
what do we think of ourselves? How does our resume in this life
read? It is not important what others (playing the sub-plot role)
think of us, but what God thinks of us. A Storyline Resource reminds
me of My Identity in Jesus
(http://www.storylineblog.com/Storyline-Identity-in-Jesus.pdf)
Our identity includes: Beloved, Forgiven, Washed Clean, Delighted In, A Child of God, Free, A Temple of the Holy Spirit, Adopted Into God's Family, Co-Heir with Christ, Righteous, New, A Saint, Set Apart, An Ambassador of Christ, A Co-Laborer, A Sweet Aroma, Never Alone, A masterpiece, Wonderfully Made, Bold, Having Guaranteed Victory, Holding a Secured Future, Whole in Christ. (Each identification has a scripture.)
We
never have to worry about who we are when we 'play' the sub-plot to
God's story. We are in His Story. We don't 'step' on His lines. We
don't usher Him out, stage right. His role is a constant. We praise
Him and thank Him for this opportunity to be In His Story! How do we
Thank Him? How can we not thank and praise Him? Each morning I see
the work of His hands in His Creation. I marvel at the detail,
variety and structure of each flower, each tree and each leaf. The
geese who strut across the street mid-town – while traffic stops –
and I know that the honoring of their lives is a praise for God.
With each baby who is born, a new one is added In His Story. Just as
the little one learns to walk and talk, we, In His Story learn to
praise, to thank, trust and honor God our Father.
God
directs our lives, He comforts us, He is the lifter of our head. He
knows our thoughts and deeds, He gives us rest. He IS. Satan, the
Antagonist, is 'anti' all that is good, kind gentle,compassionate.
He is the father of all lies. The antagonist is filled with empty
promises that turn bitter in our mouths.
What
story do our children, grandchildren and great grandchildren read as
we draw breath? Will our story draw them to play a sub-plot role to
our Beloved Father in Heaven?
• The Lord is my rock and my fortress and my deliverer, my God, my rock, in whom I take refuge, my shield, and the horn of my salvation, my stronghold. Psalm 18:2
• The voice of the Lord is over the waters; the God of glory thunders, theLord, over many waters. Psalm 29:3
• How precious is your steadfast love, O God! The children of mankind take refuge in the shadow of your wings. Psalm 36:7
• Gracious is the Lord, and righteous; our God is merciful. Psalm 116:5
• Praise the Lord! For it is good to sing praises to our God; for it is pleasant, and a song of praise is fitting. Psalm 147:1
• Every word of God proves true; he is a shield to those who take refuge in him. Proverbs 30:5
• God is faithful, by whom you were called into the fellowship of his Son, Jesus Christ our Lord. I Corinthians 1:9
• For the foolishness of God is wiser than men, and the weakness of God is stronger than men. I Corinthians 1:25
Comments? eacombs@att.net